2019 Ford F-150 Leasing near Dallas, TX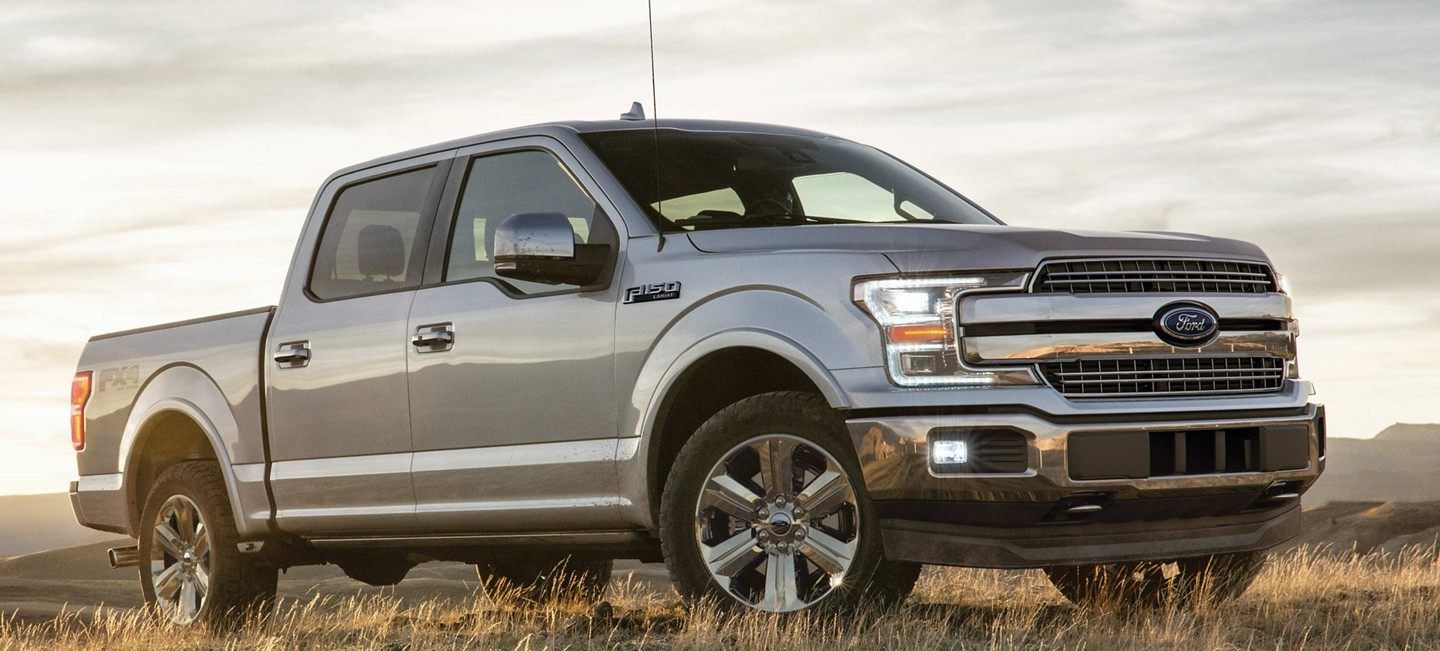 2019 Ford F-150 shown above with optional equipment.
At Prestige Ford, we know that some people looking for vehicles don't need them for the long haul. There are some that want to purchase an automobile that will last them for decades on end, but another large part of the buyer demographic might need their pickup for the short term. If you fall into the latter group, you might be interested to learn more about our leasing programs, which can get you behind the wheel of an incredible model like the 2019 Ford F-150 for less than you might have thought possible.
Capability
Before we get into our leasing programs, let's talk about why the F-150 should be at the top of your list for this year. If you need a strong pickup to help you out, what better choice is there than the one with best-in-class1 towing? The available 3.5L EcoBoost® turbo V6 engine pumps out 375 horsepower and 470 lb.-ft. of torque, which gives it an incredible 13,200-lb. towing capacity2. It doesn't just provide an exceptional conventional engine, but the best-in-class1 3.0L Power Stroke® turbo diesel engine as well, which arms you with a 11,400-lb. towing capacity2 with its 250 horsepower and 440 lb.-ft. of torque. Even if you don't need the strongest engine available, you'll have four other engine choices when you choose to drive the F-150.
What Smart Towing Features Does the F-150 Have?
The 2019 Ford F-150 is an immensely powerful truck, but this isn't all it offers its driver. Towing can certainly be tricky, and especially so when you're pulling incredibly heavy cargo behind you. That's why you'll benefit from available features such as Pro Trailer Backup Assist™3, which synchronizes the truck with the trailer whenever you move in reverse. When you're still trying to hitch your trailer, the dynamic hitch assist offers you a line-of-site guide to lead you directly where you need to be. Finally, you'll enjoy the Blind Spot Information System with trailer coverage3, so that you're aware of everything happening around you even while experiencing the busy traffic of Elm Street.
Leasing
You might be feeling confident in the Ford F-150 itself, but aren't sure if leasing is the correct path for you. These programs have two primary appealing factors. The first is price. If you'd like to drive the F-150 at just a fraction of if you were to buy, then leasing might be right for you. Because you're only possessing the truck for a temporary amount of time, your payments will be based upon its estimated depreciated value, rather than the full sticker price. The second detail many customers love is that you don't have to commit to one vehicle for decades. Perhaps you don't imagine needing the power and capabilities of the F-150 for years on end. Or, maybe you want to try out a truck for a few years. Whatever the case, once your lease expires you'll have total freedom to renew the contract, lease out a new model, or think about your purchasing options.
To make this capable truck yours, visit us at Prestige Ford and start the 2019 Ford F-150 leasing near Dallas, TX, at your earliest convenience. If you have any questions about our programs, be certain to contact us and we'll answer all of your questions. See you soon!
Green Score
EPA Green Score ( California LEV-III LEV160

?

EPA and California-required standards. The names refer to tables of numerical limits for the various air pollutants allowed by the standards.

)
Fuel Type
Diesel
Air Pollution Score

?

The Air Pollution Score is based on the government emission standards for which the vehicle was certified to comply with and reflects vehicle tailpipe emissions that contribute to local and regional air pollution, creating problems such as haze, and health issues.

Greenhouse Gas Score

?

This score reflects fuel emissions of carbon dioxide (CO2) and other greenhouse gases.

Smartway

?

SmartWay is a designation earned by those vehicles that have combined Air Pollution and Greenhouse Gas Scores that place them in the top tier (approximately the top 20%) of environmental performers. SmartWay Elite is reserved for the best of the best.

N/A
EPA Green Score ( California LEV-III ULEV125

?

EPA and California-required standards. The names refer to tables of numerical limits for the various air pollutants allowed by the standards.

)
Fuel Type
E85
Air Pollution Score

?

The Air Pollution Score is based on the government emission standards for which the vehicle was certified to comply with and reflects vehicle tailpipe emissions that contribute to local and regional air pollution, creating problems such as haze, and health issues.

Greenhouse Gas Score

?

This score reflects fuel emissions of carbon dioxide (CO2) and other greenhouse gases.

Smartway

?

SmartWay is a designation earned by those vehicles that have combined Air Pollution and Greenhouse Gas Scores that place them in the top tier (approximately the top 20%) of environmental performers. SmartWay Elite is reserved for the best of the best.

N/A
EPA Green Score ( California LEV-III ULEV125

?

EPA and California-required standards. The names refer to tables of numerical limits for the various air pollutants allowed by the standards.

)
Fuel Type
Gasoline
Air Pollution Score

?

The Air Pollution Score is based on the government emission standards for which the vehicle was certified to comply with and reflects vehicle tailpipe emissions that contribute to local and regional air pollution, creating problems such as haze, and health issues.

Greenhouse Gas Score

?

This score reflects fuel emissions of carbon dioxide (CO2) and other greenhouse gases.

Smartway

?

SmartWay is a designation earned by those vehicles that have combined Air Pollution and Greenhouse Gas Scores that place them in the top tier (approximately the top 20%) of environmental performers. SmartWay Elite is reserved for the best of the best.

N/A
EPA Green Score ( California LEV-III ULEV70

?

EPA and California-required standards. The names refer to tables of numerical limits for the various air pollutants allowed by the standards.

)
Fuel Type
E85
Air Pollution Score

?

The Air Pollution Score is based on the government emission standards for which the vehicle was certified to comply with and reflects vehicle tailpipe emissions that contribute to local and regional air pollution, creating problems such as haze, and health issues.

Greenhouse Gas Score

?

This score reflects fuel emissions of carbon dioxide (CO2) and other greenhouse gases.

Smartway

?

SmartWay is a designation earned by those vehicles that have combined Air Pollution and Greenhouse Gas Scores that place them in the top tier (approximately the top 20%) of environmental performers. SmartWay Elite is reserved for the best of the best.

N/A
EPA Green Score ( California LEV-III ULEV70

?

EPA and California-required standards. The names refer to tables of numerical limits for the various air pollutants allowed by the standards.

)
Fuel Type
Gasoline
Air Pollution Score

?

The Air Pollution Score is based on the government emission standards for which the vehicle was certified to comply with and reflects vehicle tailpipe emissions that contribute to local and regional air pollution, creating problems such as haze, and health issues.

Greenhouse Gas Score

?

This score reflects fuel emissions of carbon dioxide (CO2) and other greenhouse gases.

Smartway

?

SmartWay is a designation earned by those vehicles that have combined Air Pollution and Greenhouse Gas Scores that place them in the top tier (approximately the top 20%) of environmental performers. SmartWay Elite is reserved for the best of the best.

N/A
EPA Green Score ( Federal Tier 3 Bin 125

?

EPA and California-required standards. The names refer to tables of numerical limits for the various air pollutants allowed by the standards.

)
Fuel Type
E85
Air Pollution Score

?

The Air Pollution Score is based on the government emission standards for which the vehicle was certified to comply with and reflects vehicle tailpipe emissions that contribute to local and regional air pollution, creating problems such as haze, and health issues.

Greenhouse Gas Score

?

This score reflects fuel emissions of carbon dioxide (CO2) and other greenhouse gases.

Smartway

?

SmartWay is a designation earned by those vehicles that have combined Air Pollution and Greenhouse Gas Scores that place them in the top tier (approximately the top 20%) of environmental performers. SmartWay Elite is reserved for the best of the best.

N/A
EPA Green Score ( Federal Tier 3 Bin 125

?

EPA and California-required standards. The names refer to tables of numerical limits for the various air pollutants allowed by the standards.

)
Fuel Type
Gasoline
Air Pollution Score

?

The Air Pollution Score is based on the government emission standards for which the vehicle was certified to comply with and reflects vehicle tailpipe emissions that contribute to local and regional air pollution, creating problems such as haze, and health issues.

Greenhouse Gas Score

?

This score reflects fuel emissions of carbon dioxide (CO2) and other greenhouse gases.

Smartway

?

SmartWay is a designation earned by those vehicles that have combined Air Pollution and Greenhouse Gas Scores that place them in the top tier (approximately the top 20%) of environmental performers. SmartWay Elite is reserved for the best of the best.

N/A
EPA Green Score ( Federal Tier 3 Bin 160

?

EPA and California-required standards. The names refer to tables of numerical limits for the various air pollutants allowed by the standards.

)
Fuel Type
Diesel
Air Pollution Score

?

The Air Pollution Score is based on the government emission standards for which the vehicle was certified to comply with and reflects vehicle tailpipe emissions that contribute to local and regional air pollution, creating problems such as haze, and health issues.

Greenhouse Gas Score

?

This score reflects fuel emissions of carbon dioxide (CO2) and other greenhouse gases.

Smartway

?

SmartWay is a designation earned by those vehicles that have combined Air Pollution and Greenhouse Gas Scores that place them in the top tier (approximately the top 20%) of environmental performers. SmartWay Elite is reserved for the best of the best.

N/A
EPA Green Score ( Federal Tier 3 Bin 70

?

EPA and California-required standards. The names refer to tables of numerical limits for the various air pollutants allowed by the standards.

)
Fuel Type
E85
Air Pollution Score

?

The Air Pollution Score is based on the government emission standards for which the vehicle was certified to comply with and reflects vehicle tailpipe emissions that contribute to local and regional air pollution, creating problems such as haze, and health issues.

Greenhouse Gas Score

?

This score reflects fuel emissions of carbon dioxide (CO2) and other greenhouse gases.

Smartway

?

SmartWay is a designation earned by those vehicles that have combined Air Pollution and Greenhouse Gas Scores that place them in the top tier (approximately the top 20%) of environmental performers. SmartWay Elite is reserved for the best of the best.

N/A
EPA Green Score ( Federal Tier 3 Bin 70

?

EPA and California-required standards. The names refer to tables of numerical limits for the various air pollutants allowed by the standards.

)
Fuel Type
Gasoline
Air Pollution Score

?

The Air Pollution Score is based on the government emission standards for which the vehicle was certified to comply with and reflects vehicle tailpipe emissions that contribute to local and regional air pollution, creating problems such as haze, and health issues.

Greenhouse Gas Score

?

This score reflects fuel emissions of carbon dioxide (CO2) and other greenhouse gases.

Smartway

?

SmartWay is a designation earned by those vehicles that have combined Air Pollution and Greenhouse Gas Scores that place them in the top tier (approximately the top 20%) of environmental performers. SmartWay Elite is reserved for the best of the best.

N/A
Crash-Test Ratings
2019 Ford F-150 Super Crew PU/CC 4x2
| | |
| --- | --- |
| Overall | |
| Front Crash Overall | |
| Front Crash Driver | |
| Front Crash Passenger | |
| Side Crash Overall | |
| Side Barrier Overall | |
| Side Barrier Driver | |
| Side Barrier Passenger | |
| Side Pole Driver | |
| Side Combined Front | |
| Side Combined Rear | |
| Rollover | |
Awards
10 Best Engines
(2019 Model)
- Wards Auto
---
Best Bet: Standard Pickup
(2019 Model)
- The Car Book
---
Best Buy: Pickup Truck
(2019 Model)
- Kelley Blue Book
---
Best CPO Value in America: Trucks
(2019 Model)
- Vincentric
---
Best Resale Value: Top 10 Models
(2019 Model)
- Kelley Blue Book
---
Best Truck Brand
(2019 Model)
- US News
---
Best Value in America: Pickup Trucks
(2019 Model)
- Vincentric
---
Best Vehicles By Class: Standard Pickups
(2019 Model)
- GreenerCars.org
---
Buyers Most Wanted: Large Truck
(2019 Model)
- Edmunds
---
Editors Choice Awards: Pickup Trucks
(2019 Model)
- Car And Driver
---
Green Truck of the Year: Finalist
(2019 Model)
- Green Car Journal
---
Greener Choices
(2019 Model)
- GreenerCars.org
---
Most Efficient Standard Pickup Trucks
(2019 Model)
- Fueleconomy.Gov
---
Performance and Design: Highest Ranked in Large Light Duty Pickup Segment
(2019 Model)
- J.D. Power and Associates
---
Pickup Truck of the Year: Nominee
(2019 Model)
- Cars.com
---
Truck of the Year: Finalist
(2019 Model)
- Motor Trend
---
Sales Hours
972-468-1024
| | |
| --- | --- |
| Monday | 9:00 am - 9:00 pm |
| Tuesday | 9:00 am - 9:00 pm |
| Wednesday | 9:00 am - 9:00 pm |
| Thursday | 9:00 am - 9:00 pm |
| Friday | 9:00 am - 9:00 pm |
| Saturday | 9:00 am - 9:00 pm |
| Sunday | Closed |
Additional Vehicle Information
Features
Features
Mechanical
Safety
Technology
Exterior
Comfort
Interior
Mechanical
Towing and Hauling
| | |
| --- | --- |
| Trailer hitch | bumper hitch |
| Tow/Haul mode | |
| Cargo tie downs | |
| Trailer wiring | 4-pin |
Drivetrain
| | |
| --- | --- |
| Drive mode selector | |
| Axle ratio | 3.55 |
Engine
| | |
| --- | --- |
| Auto start/stop | |
| Battery rating | 610 CCA |
| Battery saver | |
| Battery | maintenance-free |
| Alternator | 200 amps |
Brakes
| | |
| --- | --- |
| Rear brake width | .98 |
| Rear brake type | ventilated disc |
| Rear brake diameter | 13.7 |
| Front brake diameter | 13.8 |
| Emergency braking preparation | |
| Front brake type | ventilated disc |
| Braking assist | |
| Electronic brakeforce distribution | |
| ABS | 4-wheel |
| Power brakes | |
| Electronic parking brake | auto off |
| Cornering brake control | |
| Front brake width | 1.34 |
Suspension
| | |
| --- | --- |
| Front suspension classification | independent |
| Front suspension type | double wishbone |
| Rear suspension classification | solid live axle |
| Rear spring type | leaf |
| Front spring type | coil |
| Rear suspension type | multi-leaf |
| Rear shock type | gas |
| Front shock type | gas |
| Front stabilizer bar | diameter 36 mm |
| Front struts | |
Stability and Traction
| | |
| --- | --- |
| Stability control | |
| Traction control | |
| Hill holder control | |
| Roll stability control | |
| Trailer stability control | |
Safety
Technology
Exterior
Comfort
Interior
Specs